A little girl has left internet users in hysterics after she confused the alphabet with an expletive-laden viral pop song.
Three-year-old Evie Lee Fritcher, from the United States, has become a sensation on social media with her adorable videos, racking up 34,700 followers on TikTok and 29,000 on Instagram.
In one hilarious clip, which racked up two million views and 116,000 likes after being shared to the Mama Vibes TikTok account, the toddler attempted to recite the alphabet to her mom.
Instead, the tot sang the chorus to the popular song 'abcdefu' by singer Gayle, which begins to recite letters of the alphabet before descending into an obscenity-filled breakup track.
The toddler's mom shared the video with the caption: "When your three-year-old thinks this is actually the alphabet".
It received nearly 1000 comments, with one user writing: "This was my daughter… Until I had to tell her that version is for parents and not the kids. Now it's ABCDEFGHI love you still"
An exasperated teacher commented: "Had arguments with multiple grade one students about the correct alphabet because of this song!"
A third commented: "Can you imagine if she actually stood up in class and read it like this".
"Cute. Wait till she gets older and realizes what she is saying. Priceless cuteness overload," said a fourth.
The song 'abcdefu' was released in August last year by American pop singer Gayle. It reached number one on the Billboard Global 200 and hit third on the U.S. Billboard Hot 100.
The breakup song was originally shared acoustically on TikTok after the singer posted on her account to ask for songwriting ideas. She received a reply from an account named Nancy Berman, asking if she could write a breakup song based on the alphabet. Weeks later, the song was released by Atlantic Records.
However Atlantic Records previously confirmed to Newsweek that the comment was simply playful. They confirmed Berman, a marketing manager at the label, and the singer both knew the song was about to drop, with the track and the video having already been recorded.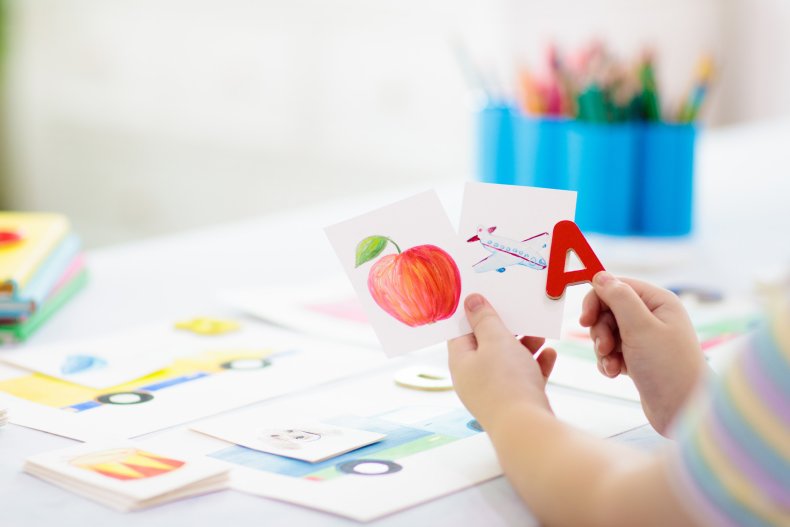 The teen singer had mentioned the song in previous social media clips, and people from the label regularly comment on her TikTok videos, said Atlantic Records.
The label said the song received a small amount of attention after the initial TikTok video, and weeks later on its release.
However, "abcdefu" truly took off months later in November 2021 after a TikTok video translated the song in American Sign Language, going viral.